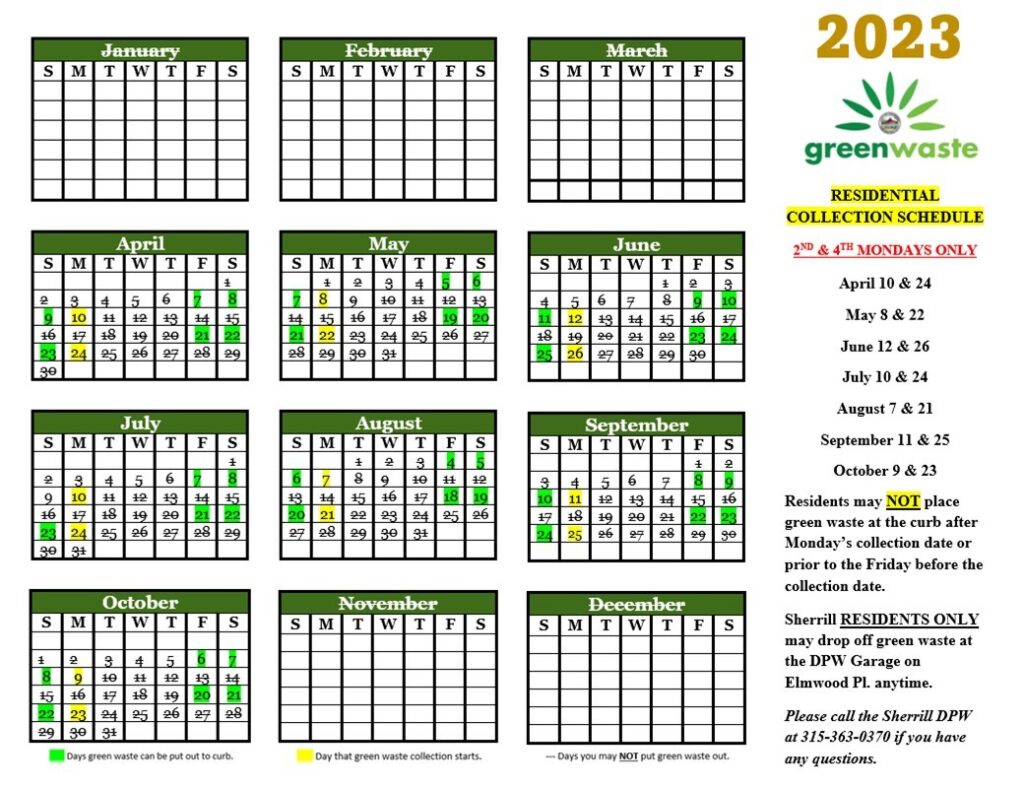 Looks like Spring has finally sprung!!! Curbside Green Waste Collection for 2023 will begin on Monday April 10th. Grass clippings do NOT need to be placed in composable paper bags as previously directed. (Curbside collection scheduled is attached.)
Sherrill Residents ONLY may dispose of their SHERRILL property's Green Waste at the DPW drop location between now and April 7th (first day to put curbside).
NEW for 2023 – Contractors can NOT dispose of Green Waste at the DPW location effective 4/10/23. The NEW location is the Waste Water Treatment Plant at 201 Fairway Lane. Contractors must fill out a disposal form at City Hall, pay $15.00 per load and schedule a drop off date. AGAIN, Contractor disposal has changed, and you must now pay to dispose of green waste that has been generated by a contractor and fill out disposal form at Sherrill City Hall, and schedule disposal appointment.
Contractors can still dispose of Green Waste at the OHSWA Eco Drop sites in Oneida County. https://www.ohswa.org/ecodrop/
As always, contractors can NOT place contractor generated green waste at the curbside of property serviced for City crew collection.
If you have any questions, please contact the DPW at 315-363-0370.