Frequently Asked Questions
What are the hours at City Hall?
City Hall is open 7:45am to 4pm Monday-Friday. There is also a night drop slot located on the parking lot side of the building. The phone number is (315) 363-2440.
When does the City Commission meet?
City Commission meetings are held on the second and fourth Mondays of each month at 7pm at the City Court building.
Where do I get a marriage license?
You can get a marriage license at City Hall. You will need proof of age, and copies of divorce decrees or death certificates if previously married. The cost of the license is $40.
Does my dog need a license?
Dogs over 4 months old must be licensed at City Hall. You will need a rabies certificate and proof of spaying or neutering if applicable. The fee for a spayed/neutered dog is $12 and $25 for non-spayed/non-neutered.
When are my taxes due?
City tax bills are mailed out March 1st and due March 31st each year. City residents also pay Oneida County and Town of Vernon taxes that are mailed January 1st and due January 31st each year and VVS School taxes that are mailed September 1st and due September 30th each year.
When is my garbage pick-up?
Bliss Environmental Services picks up your garbage and recyclables once a week on Wednesday or Thursday depending on your location. Call City Hall at 363-2440 for your particular day.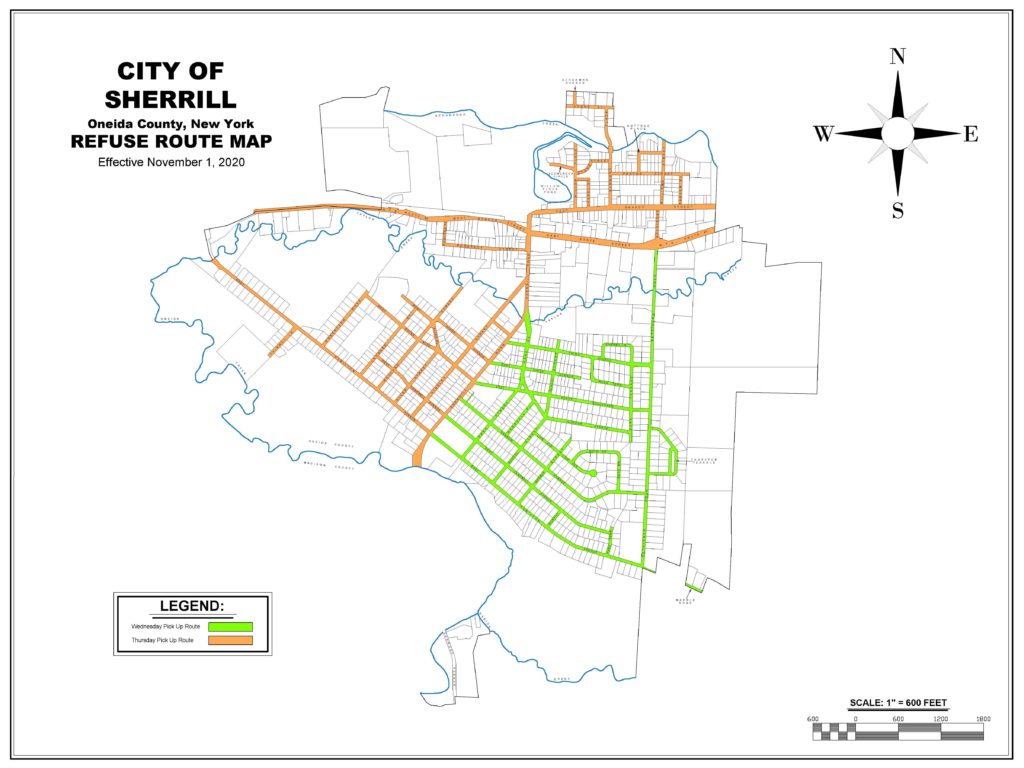 What are the hours of the transfer station?
Spring/Summer hours are Wednesdays 4-7pm and Saturdays 8am – 1pm. Winter hours are Saturdays 8am – 1pm. Refuse coupons must be purchased at City Hall at $5 each. Number of coupons needed varies based on size of the load.
When do I get my utility bills?
The City of Sherrill bills water, sewer and electric each month to approximately half the city. As a resident you are billed every other month. Utility bills are generally mailed by the first or second Friday of the month and generally due the last or second from last Monday of the month.
What is PPA on my utility bill?
PPA stands for Purchased Power Adjustment. The City's base electric rate is based on a set allocation of hydro-electricity. The PPA consists of costs incurred when the city exceeds its hydro allocation and must buy more expensive incremental electricity and also the costs passed on to the City for increases of hydro-electricity costs since our base rate was established, hydro electric curtailment charges, transmission and wheeling costs, etc.
How do I reach the Sherrill Police?
Emergencies- 911
Dispatch- (315) 363-3200
Leave a message- (315) 363-6221
Can I park overnight on Sherrill streets?
Overnight parking is allowed from May 1st – October 31st. As of November 1st and through April 30th there is no parking on city streets between the hours of 2am – 7am.