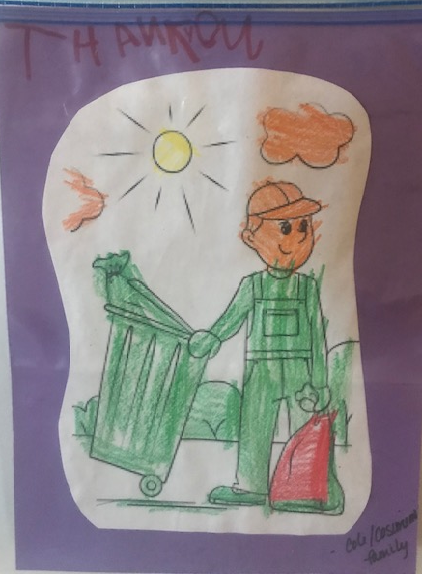 The DPW appreciates residents' thoughtfulness during this time.
This picture that was left for them made their day!
There are some reminders below and everyone's efforts to implement these practices help them to be able recycle more materials and collect items safely.
-Please place garbage and recyclables out by 7am on the day of pickup to ensure they are out in time to be picked up.
-Please remember to keep recyclables and garbage in separate containers and make sure all trash is in a garbage container (not just in a bag on the ground).
-Please remember, the following items cannot be recycled- napkins, wax paper, paper towels, paper plates or cups, tissue paper, copier paper wrapping, metal hanging file folders, Tyvek shipping envelopes, frozen food and microwave cartons, wax coated corrugated cardboard like beer and soda boxes, pizza boxes with debris, plastic forks, knives or spoons, styrofoam, plastic bags, wrappers or wrapping, prescription medicine bottles, needles/syringes, motor oil boxes, clothes hangers, furniture, snack bags, toys, straws, plexiglass, pesticides, metals or light fixtures.
-Please remember to clean recyclable cans and bottles. 
-Recyclable materials may not be placed in bags.  Only shredded paper may be bagged.
-Cardboard must be broken down into squares no larger than 3'x3' and should not be folded or placed into larger boxes. 
-Please visit https://www.ohswa.org/recycle for more information about what is recyclable and how to dispose of items.
-Please be sure to place facial tissue and paper towels in tightly tied bags. 
-Proper Disposal of Needles/Syringes- They must be placed in a puncture proof container (like a laundry bottle with a top) and then when full the lid should be put on and then taped closed.  The container should then be labeled as "SHARPS" and put in the garbage.