American Red Cross Honors Alycia Kruger for Saving a Life
Red Cross Certificate of Merit presented for using training skills to save a life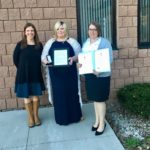 Sherrill, NY (April 24, 2019) – On December 7, 2018, Alycia Kruger called on her American Red Cross training in First Aid/CPR to save the life of Annabelle Munz when Alycia was supervising kids during a youth center program. Kruger observed Munz choking, and asked her if she needed assistance. Munz motioned that she was choking. Kruger performed abdominal thrusts to dislodge the food, and Munz was able to breathe again. For this heroic and lifesaving action, Alycia Kruger received the Red Cross Certificate of Merit on Monday in a ceremony at the Sherrill City Court. City of Sherrill Mayor William Vineall also presented Alycia with a resolution from the Sherrill City Commission thanking her for her courageous efforts.
The Certificate of Merit is the highest award given by the Red Cross to individuals who save or sustain a life using skills learned in a Red Cross Training Services course.
"We're extremely proud to present a Certificate of Merit to Alycia Kruger," said Mallory Brown, Executive Director of the Mohawk Valley Chapter. "Her actions exemplify our mission to help people prevent, prepare for and respond to emergencies."
Red Cross training gives people the knowledge and skills to act in an emergency and save a life. A variety of online, blended (online and in-person skills session) and classroom courses are available at redcross.org/takeaclass. If you or someone you know has used skills and knowledge learned in an American Red Cross Training Services course to help save or sustain the life of another individual, visit LifesavingAwards.org to nominate, recognize, or be inspired.
Pictured in above photo, from left to right: Sara Getman, City of Sherrill Recreation Supervisor; Alycia Kruger, Certificate of Merit recipient; and Mallory Brown, Executive Director, American Red Cross Mohawk Valley Chapter.
About the American Red Cross:
The American Red Cross shelters, feeds and provides emotional support to victims of disasters; supplies about 40 percent of the nation's blood; teaches skills that save lives; provides international humanitarian aid; and supports military members and their families. The Red Cross is a not-for-profit organization that depends on volunteers and the generosity of the American public to perform its mission. For more information, please visit www.redcross.org/eny and follow @RedCrossENY on Twitter.