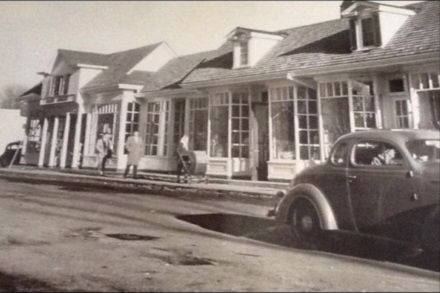 Many local businesses and organizations are adapting to the situation to work to continue to serve the community. We will update and add to this list as regularly as possible and please note that things may change. If you have information that you'd like to share please email sgetman@sherrillny.org and we will work to include it. Thank you to our entire community for supporting one another during this time!
Grocery Stores, Restaurants & To Go Food
Ebeneezer's Cafe and Creamery– Ebeneezer's is offering takeout and delivery every day for lunch as well as Friday night Fish Fry dinners.  Please call (315) 363-4537.
Gypsy~Girl Wood Fired Pizza Events & Catering– Gypsy Girl Home Delivery is offering Family Size Meals to be delivered Sunday & Wednesday. Visit https://www.facebook.com/GGirlWoodFiredPizzaEventsCatering/ for details and text or email your order (315) 751-9247 or gourmetgypsygirl@gmail.com
Joe's Jerky & Corner Market– Joe's Jerky is open and trying to stay as stocked as possible! They have meat and frozen vegetables and lots of other items.  They are offering corned beef & cabbage today, and the Pizza shop is offering pick up or delivery.  Check out their page for updates and more information.
Lakeside Landing at OCGC– is offering a to go menu with some delivery and porch pickup Fridays and additional special times as announced on their Facebook page- Check out their page for the full menu and more information.
Maple Leaf Market– open 5:30am-8pm

Marble Hill Inn– The Marble Hill in will be open for to go food 11:30am-9pm daily. Please call (315) 363-9787.
The Cremeria– Offering online orders for in-shop pickup and delivery.  Delivery will be available in/near Sherrill for a $5 delivery charge.  They won't be able to do same-day delivery, so orders will need to be placed at least one day in advance for Sherrill.  The flavors will change daily, which is reflected on each item – you pick the flavors when you order.  It's all accessible at: www.thecremeria.com
Tops Market– Tops Market is open 6am-11pm. Food is continually being restocked as it comes in. As of Tuesday March 17 a great deal of frozen food and produce is available. The deli and bakery are also preparing food and bakery is making additional bread etc.
Sherrill American Legion Post 230– The Legion will is offering to go meals on most Fridays and some Saturdays, Take out only, Call after 2pm Friday to order, (315) 363-3920.  There are pick up windows in the parking lot at 168 East Seneca Street for your safety and convenience.
Sherrill New York Pizzeria– The pizzeria is offering take out and delivery.  Call (315) 363-2189 or order online at SherrillNYPizza.com
Silver City Baking Company– Silver City Baking Company will offer pickup for preordered food.  Please contact Andrea Maranville with any inquiries and stay tuned for updates- amaranville@hotmail.com or (518) 791-3469.

Vernon Dairy– The Vernon Dairy delivers to Sherrill and has cheeses, milks, potatoes, juice, yogurt and more.  Please click here or call (315) 841-4838 to order or for more information.
Ye Olde Pizza Pub– The pizza pub is offering take out and may offer delivery.  Visit www.oneidapizza.com.
Other Stores, Businesses & Services
Carhart's Feed– Carhart's Feed has food and supplies for pets and offers contact free pickup.  Call (315) 829-2130 for hours and details.
Deep Roots Turf Solutions– Deep Roots offers Lawn Care Programs, Weed Control, Deep Tine Aeration, Slice Aeration, Over Seeding, Slice Seeding, Skid Steer Work , Tick and Insect Control and more.  Check out their website or contact them to learn more- http://www.deeprootsturfsolutions.com/
KEYS Program– Is still working to deliver music, hope and smiles to our clients and KEYS families the best we can. Staff may be contacted at info@thekeysprogram.org or (315) 363-6446.  Music therapy services are being offered online. The KEYS Program is still planning for their Summer Smile Experience Tour.  Finally, if you are a student or musician and would like to send music either in audio or video form to share with KEYS kids, the program would love it! And if you aren't a musician but would just like to send some SMILES… feel free to send in a joke or just a simple "It's all about the smiles" shout out to share with KEYS kids! Those can be sent to info@thekeysprogram.org or tagged on https://www.facebook.com/KEYSProgram/
NBT Bank– The drive through will be open 9am-4pm Monday-Friday.  The lobby is closed and only accessible by appointment for emergency situations for removing something from safe deposit boxes.  Notary service is not available.
Oneida Community Mansion House– closed to the public until further notice. 
PR Plus Small Engine– PR Plus Small Engine is remaining open for services and repairs and adhering to the recommendations from the U.S. Centers for Disease Control and Prevention (CDC) and the World Health Organization (WHO) to help protect customers and workers.  They will still accept drop offs of machines at the shop and will continue to pickup and deliver lawn mowers for customers.  They recommend all customers call to set up a time for drop off or delivery, (315) 723-8725.  They ask all customers to please wipe down the handles/steering wheels with a disinfectant before they are picked up and to utilize the 6 foot social distancing recommendations when at the shop or during pickup/delivery.
The Sales Office – Kenwood Community Properties– The building has individual offices with internet access where people could work in a solitary environment. Please contact Jody Hicks (315) 363-1850 or jlsiegler@hotmail.com for information.
The Tot Spot– The Tot Spot is offering take home crafts and sensory kits that can be purchased through the Tot Spot website. They are designed to facilitate sensory, cognitive and motor skills and to keep children entertained at home. They can be shipped or delivered within 10 miles. Please visit https://www.thetotspotplaycenter.com/ for more information or to order.
The White Begonia– The White Begonia is offering curbside pickup and virtual shopping! Please check their facebook page for more information.
Worth Repeating Consignment Shop– closed until further notice.
Churches
Gethsemane Episcopal Church– in-person worship is suspended until further notice.
Plymouth Alliance Church– has canceled services for Sunday, March 22, 29 and April 5.  Sermons can be viewed at plymouthalliancechurch.com or the Plymouth Alliance Church Facebook page.