City of Sherrill 2016 Centennial Parade Grand Marshal Announced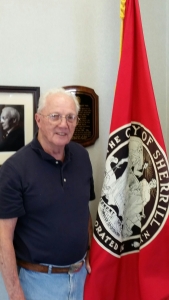 The City of Sherrill 2016 Centennial Parade Grand Marshal has been a Sherrill resident and public figure for the majority of his adult life.  The honor will go to Gordon J. Silsby, better known around the city as Gordie.
Gordie was born and raised in Carbondale, Pennsylvania. He and his wife, Beverly, moved to Sherrill in 1953.  Gordie and Bev's daughter, Deb Silsby Woodward was born later that year.
Shortly after moving to Sherrill, Gordie became employed by Oneida Limited, as the majority of residents were in those days.  After working at Oneida Limited, Gordie took a job with the Sherrill Post Office in 1960 and remained there until his retirement in 1989.
Giving back to the city that welcomed him, Gordie, coached Little League, Sherrill Pop Warner Football, served as Past Commander of the Sherrill American Legion, Past President of the Oneida Lions Club, served on the Sherrill City Commission (16 years), including several terms as Mayor (10 years) and City Manager (4 years).  He has served or is serving as Chairperson of the Sherrill Electric Board (34 years), Sherrill-Kenwood Water Board, and Valley View Cemetery.  He is a founding member of the Noyes Manor Board of Directors and is Director Emeritus of Noyes Manor.
The City of Sherrill 2016 Centennial Parade will take place Saturday July 30 at 1pm. For more information about the City of Sherrill's 100th Anniversary celebrations please visit https://sherrillny.org/100th-anniversary/.